Hello readers! Today's post is my TBR for June including the Whatever You Want-athon. Whatever You Want-athon was created by Booktuber Book Browsing Blog and it runs the entire month of June.
I am on team Epic and High! Please comment down below what team you are on, if you are participating. I actually had my Insta followers help me choose a team. I didn't know if I should be on that team or Contemporary and they helped me choose Epic and High. I'm really glad they did!
My main goals here are to hit all 15 prompts, read as many LGBT books as I can, and also get in a ton of books for the Buzzwordathon. The Buzzwordathon theme for June is names and prefixes, for example Mrs., Mr., Dr, King, Princess, etc..
Before we go any further, I want to disclaim there are affiliate links and ads within this post.
I have been wanting to dive into this book for a while now. All I know about it, is that it is inspired by Scooby Doo. I am using this book for the prompt of a cover that reminds you of a LGBT flag. I chose the Genderqueer flag, which is purple and green. This book is also LGBT and I really think I'm gonna love this one.
TW: transphobia, death
This one is going for the prompt of rereading a comfort read. This is one of the only books on this list that isn't LGBT. However, this is a series I have been rereading and I don't reread books very often if ever. Tunnels of Blood is book 3 in the Cirque Du Freak series by Darren Shan, which should be the book I am on by the end of this month. If it isn't, I will read whichever one is next.
TW: murder, death, violence, gore, death of loved one, death of a child
I recently was approved for the ARC of this one. It comes out in September. I recently read House in the Cerulean Sea, so I am putting this one for the prompt of a 5 star prediction. I didn't give House in the Cerulean Sea 5 stars, but I think TJ Klune could be a potential favorite author of mine in the future.
This one is about a man who is now dead and a reaper comes to collect him. The reaper gives him one week to live his life to the fullest, because he didn't live his life to the fullest potential.
This one is about a trans boy who wants to play Romeo in a play. The only problem is, he isn't out yet. This is is for the prompt of a debut book. I really want to read this because it reminds me of a middle grade book by my favorite author, which is George by Alex Gino.
Elatsoe is the group book for Buzzwordathon. I am also using it for the WYWAT prompt for out of my comfort zone. This book just gives me magical realism vibes, and that is for sure out of my comfort zone. I usually either love or hate books in that genre. This book is also LGBT and is by an indigenous author. It is one of my yearly goals to read more books by indigenous authors!
TW: https://booktriggerwarnings.com/index.php?title=Elatsoe_by_Darcie_Little_Badger
I bought this book right after it was released and I still have not read it. I am using this one for the prompt of a book I hauled in the past year. Now, this author has another book published and I need to get to this one before that one. This book is LGBT and is written by a transgender author, along with the MC being transgender, too.
I know this book is about a transgender teen boy, who wants to be a brujo. A brujo is a latinx type of witch. His cousin dies and he wants to summon the ghost of the cousin, so he can set it free. He ends up summoning a different ghost by accident and I believe it is a romance between them.
TW: https://booktriggerwarnings.com/index.php?title=Cemetery_Boys_by_Aiden_Thomas
Gwendy's Magic Feather is the sequel to Gwendy's Button Box. The first book is about a young girl who is approached by this strange man with a box that has all these buttons and levers. He tells her what a few of the buttons and levers do, but he does keep some a secret. One, for instance, she can pull each day and it gives her a gold coin. Then we follow her and this box until she is a new adult.
I am using this book for the prompt of indie pubbed. The Gwendy trilogy is published by Richard Chizmar's own publishing company. It also fulfills the buzzwordathon, because Gwendy is the name of the MC.
I did a few polls in Instagram like I did in April. The next WYWAT prompt is POLL. So, I will share one here and the other two at the end of this post. I first did this poll on Insta, and it ended in a tie. So, I went to Twitter to break said tie and ended with Extraordinaries by TJ Klune. I'm excited to read this one! The sequel actually comes out in July, so it is the perfect time to read it.
For the prompt of a TBR game prompt. I am going to choose the one for a graphic novel or manga. I do actually have my own TBR game that I play every month and this is one of my prompts. For this, I'm using what Instagram chose for me being V for Vendetta. I'm really excited to try this one!
Technically, this also counts for the Buzzwordathon, as V is the name of a character in the book.
TW: violence, death, confinement, torture, starvation, classism, bombs, guns, gore
The next prompt is a buddy read. I joined a fantasy book club that starts in June called Between Realms book club. It is on Instagram and was created by Nightnursereads. If you want to join, message her. We got to vote on a book and the general consensus came to this book. She also has a romance book club called Between the Covers book club that starts in June, too. I'm so excited to read this with everyone!
TW: https://booktriggerwarnings.com/index.php?title=Legendborn_by_Tracy_Deonn
This one doesn't have any LGBT rep, but it does fir the disability rep prompt, and I have wanted to read it for a long while. I know El Deafo is a graphic novel memoir about the author, who is deaf.
I realized recently that graphic novel memoirs are something I really love and I'm excited to try this one. I have been striving in 2021 to read more books with physical disability rep over mental because I think it is hard to come by.
The next prompt is a bookish creator's favorite book, or one of their favorites. I just wanted an excuse to add in Throne of Glass. I chose Booksinmyblood on Instagram for this one, but I feel like this is a lot of bookish creator's favorite book. I've been dying to try this series and June will be the time I finally do so.
TW: sexism, slut-shaming, classism, slavery, sexual harassment, rape mentioned, forced arranged marriage mentioned, trauma & nightmares, substance addiction (secondary character), suicide attempt recounted, suicidal ideation, alcohol consumption, nonconsensual drugging, blood & gore depiction, physical injuries & scars, emesis, grief depiction, death of a boyfriend & parents recounted, murder & attempted murder, knife violence, whipping recounted, poisoning, torture, imprisonment, death by a fall, war & colonialism themes, and animal death & hunting mentioned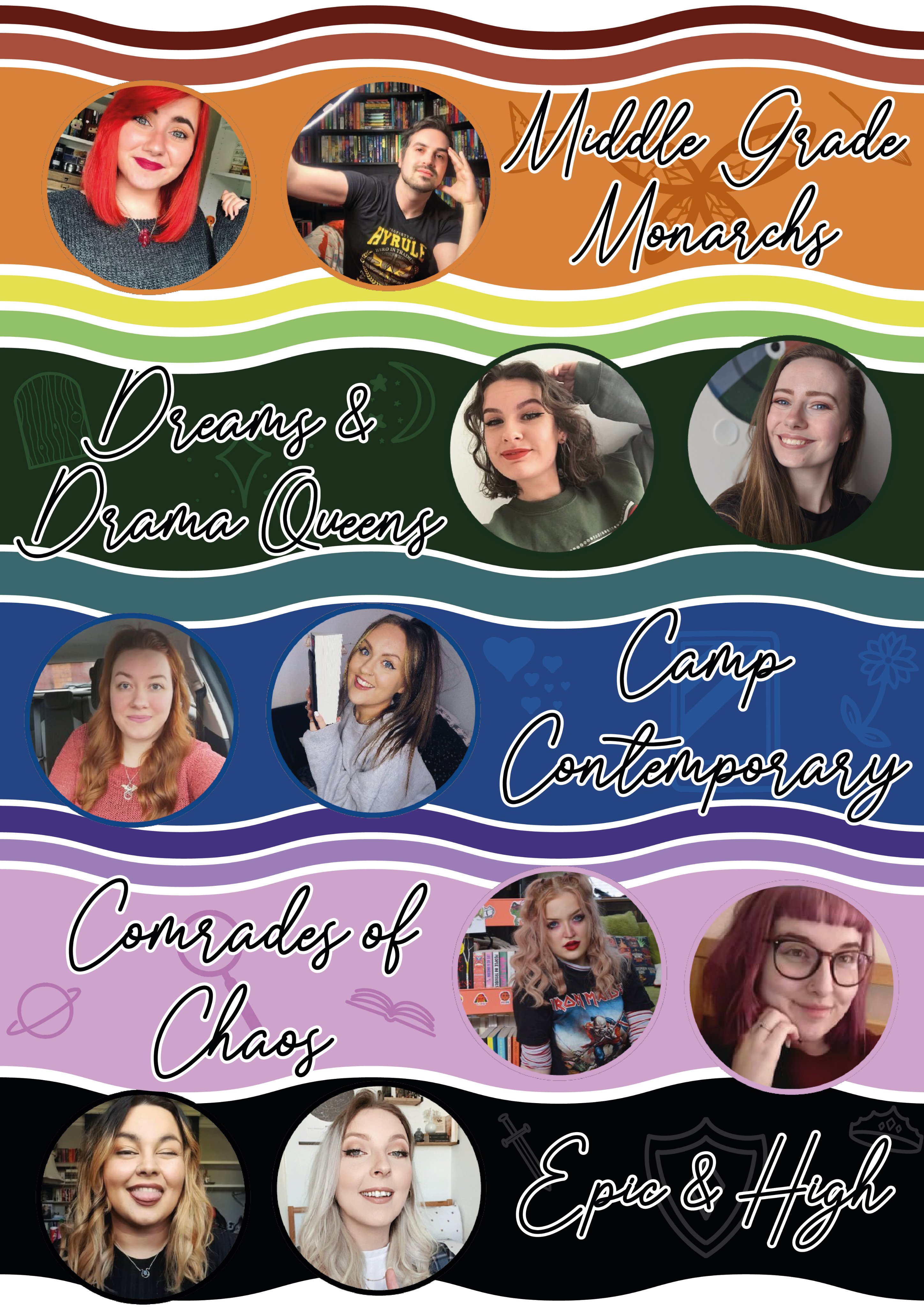 The next prompt is to read a book that features the teams color. My team color is black, and this book is pretty black.
This book isn't LGBT, but does count for the Buzzwordathon prompt because Mrs. is a prefix.
TW: https://triggerwarningdatabase.com/2021/03/22/the-death-of-mrs-westaway-by-ruth-ware/
The last prompt is to read a book where the first letter of the title is the last letter of the title of the last book you read. I hope that made sense. I picked Between Perfect and Real and Luisa Now and Then. I was browsing the internet for LGBT graphic novels and came across this one. I don't know anything about this book, but I will let you know everything about it in my wrap up for June!
The last poll I did, I didn't manage to fit onto the TBR, but it is Heartstopper. I'm going to pick this up from my library and unfortunately, they only have the first book. I truly think I will love this book and series. I've read Radio Silence by this author and LOVED it.
This is the last book going onto my TBR. I have an ARC of The Maidens and it comes out on the 15th. I really need to get to it early on in the month. I really enjoyed Michaelides's debut book and I'm sure I'll enjoy this one, too.
---
Where to find me: https://linktr.ee/Allithebookgiraffe
Business Inquiries: aw.lavender.giraffe@gmail.com
Wishlist: https://www.amazon.com/hz/wishlist/ls/3W1IYSO63N67O?ref_=wl_share
Like my thumbnails? I create them with Canva. Referral code here: (this is not an affiliate link, every user gets a link like this one): https://www.canva.com/join/jkb-wws-hqb
Important Links:
BLM: https://blacklivesmatters.carrd.co/
Stop Asian Hate: https://stopasianhate.carrd.co/
Please get vaccinated if you are eligible: https://www.vaccines.gov/get-vaccinated/whereA