Hello readers! Today's post is a TBR for a readathon called Tome Topple. (created by Booktuber Thoughts on Tomes). This readathon is centered around reading books over 500 pages and takes place this month from the 18th to the 31st.
I have really not had a good reading month so far this month, so I hope to end it with a bang. I haven't been reading much and I haven't liked a lot of what I read. Nevertheless, I'm hopeful for this readathon!
⬇️ are the prompts! ⬇️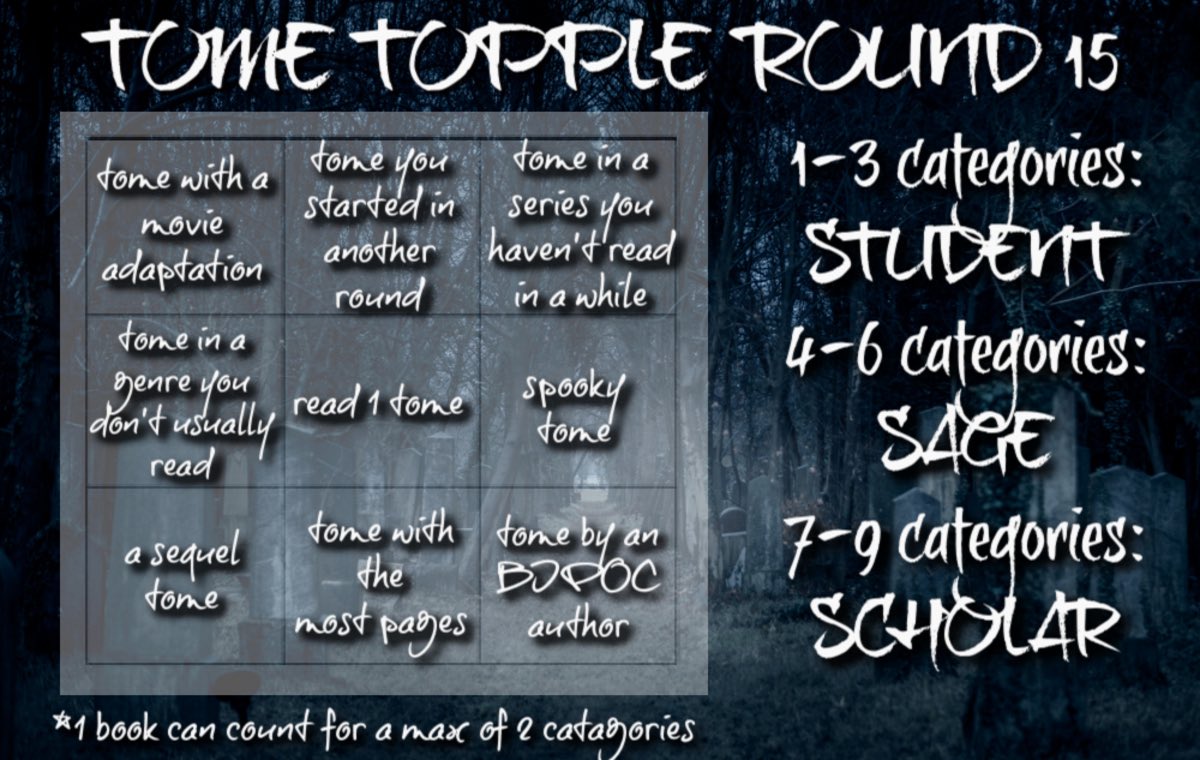 Plain Bad Heriones is my book club's very first pick. I wanted to read it closer to the end of the month and tome topple conveniently fell into my lap. I didn't realize when we agreed upon it that it would be over 600 pages. I know this is a dark academia book, which is a trope I am on the fence about, but I'm hoping I'll enjoy it nonetheless.
This one will fit the prompts for A Spooky Book and A Tome in a Genre You Don't Usually Read. I truly do not read quite enough horror, but this book club is going to change that.
I tried to read The Eye of the World once earlier this year and I just wasn't getting into it, so I put it back on my shelf to try again later. I'm going to try it one more time and see how I feel about it this time. I think I was just really distracted during my last read.
This one will fit the prompt to Read 1 Tome and Tome With a Movie Adaptation. This book has a TV adaptation coming out next month and I think that counts.
Legendborn is another one I have started before. It barely counts for this as it is 501 pages. I was reading this book and enjoying it a lot when this huge infodump happened and I got lost. I didn't retain any of it. So, I'm planning to go back before the infodump and read it again. I've never read a book centered around the knights of the round table and I was really enjoying it!
Legendborn will fit the prompt of a Tome By a BIPOC Author.
Hopefully I can get one more book in during this Tome Topple, but I'll just have to see. I own too many books over 500 pages that I haven't read, so I'm just going to mood read (IF I MANAGE TO FINISH THESE 3).
---
Where to find me: https://linktr.ee/Allithebookgiraffe
Buy me a coffee: https://ko-fi.com/allithebookgiraffe
Business Inquiries: aw.lavender.giraffe@gmail.com
Wishlist: https://www.amazon.com/hz/wishlist/ls/3W1IYSO63N67O?ref_=wl_share
Like my thumbnails? I create them with Canva. Referral code here: (this is not an affiliate link, every user gets a link like this one): https://www.canva.com/join/jkb-wws-hqb
Add this user on Goodreads for all your trigger warning needs: https://www.goodreads.com/user/show/86920464-trigger-warning-database