Hello readers! Can you believe 2022 is almost halfway gone? This has been a really fast year. Today's post are the books I hope to read in June. I am really struggling here to get back into reading and I'm hopeful for June and the readathons I'm doing. I am determined to fight until the slump is gone!
The first readathon I am doing is the Whatever You Want-athon. If you click the name, you will see a whole Twitter thread about it. In this readathon, you can choose how many books to aim for (I chose 10) and try to hit that goal. Below are the prompts for team Shelf Slayers. All the prompts are the same for every team except 5 of them (the ones in purple).
There are also bonus points for diversity rep, specifically LGBT, but it can be anything.
For each book I read, my goal is to fit 2 prompts, making 10 books finish all the prompts. HOWEVER, you can use each book you read for up to 3 prompts, so the board could be done in 6 books.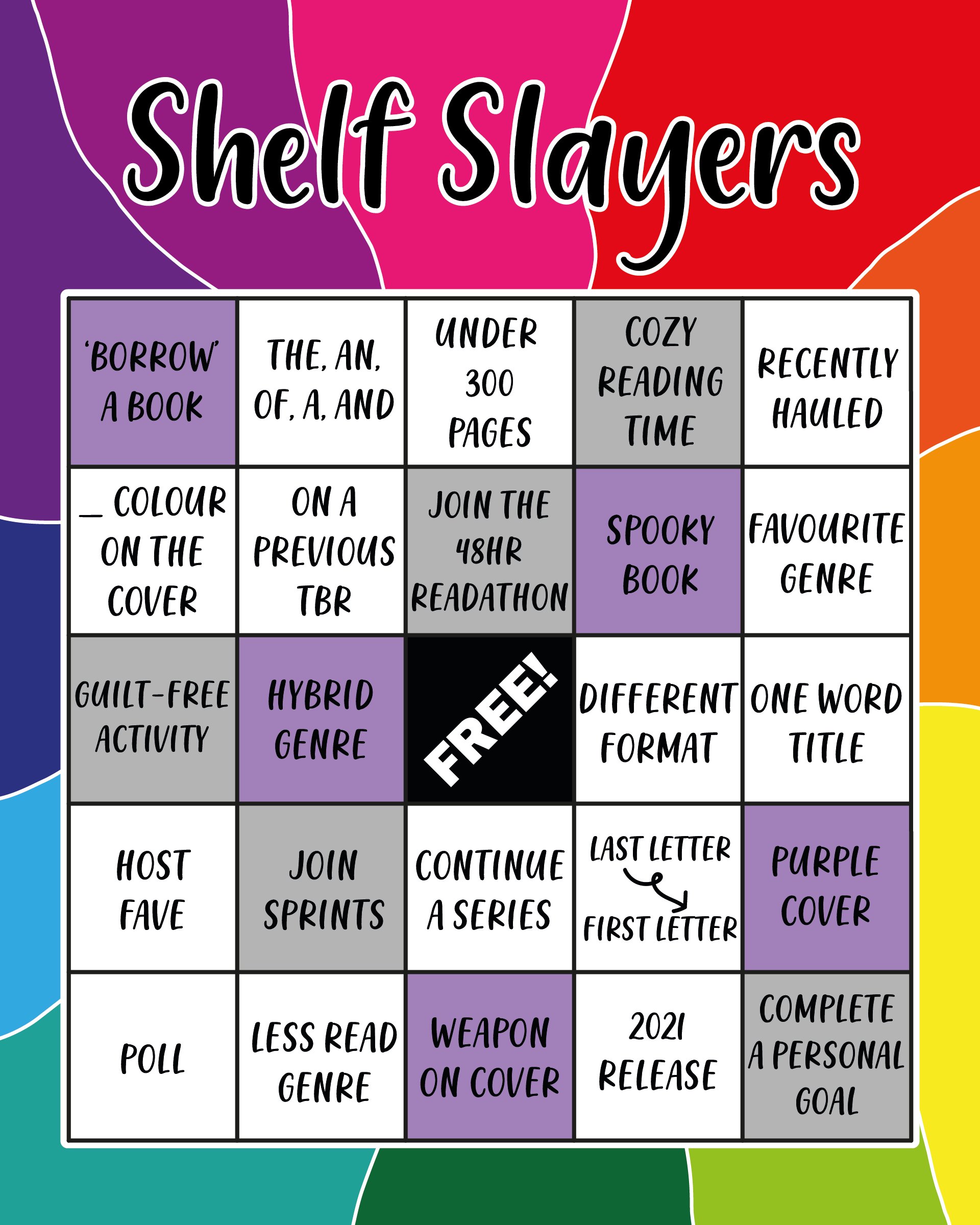 Delilah Green Doesn't Care is the book club pick for a book club called Cliterature Book Club. This book club focuses on reading smutty romance books.
This one follows Delilah. She is a photographer from a small town but moved to the big city. Her sister Astrid is having a wedding back in her hometown and asks Delilah to be the photographer. This is a enemies to lovers type story involving Delilah and one of her sister's bridesmaids, who she can't stand.
This book fits the prompts one and twenty for borrowing a book, as I will be getting it from the library, AND purple cover.
The Long Walk is about this competition where 100 teen boys are chosen to walk as long as they can. If they do stop walking, they will be killed, so they have no choice but to just keep going.
This one will fit prompts two and sixteen being THE,A,OF,AN, or AND in the title and Host favorite. I keep getting the audiobook on libby and skipping over it. It's time to actually listen to it next month.
The Walking Dead works for prompts three and eleven, which are Under 300 Pages and Different Format. I currently have 7 and 8 out of the library, but it could be whichever book in the series is next for me.
I'm kind of bending the different format prompt, b ut it is a graphic novel, which is different from all other books on this list (except one).
Camp is the 2n book in a middle grade series. IT follows this girl named Olive, who is in middle school and is struggling to find herself.
This book fits prompt five, recently hauled, and fifteen, one word title.
ACT is book three in the series and I have this down for one prompt, prompt six, yellow on the cover.
I believe Meddling Kids is an LGBT retelling of Scooby Doo. It is about 4 teens and a dog who solve crimes.
I decided to add this one for prompt seven, on a previous TBR, and nine, a spooky book. This book was on my TBR last year for this readathon and I hit a reading slump last year in June. It didn't have to be a book from a TBR that far back, but I wanted to do it that way.
Alloy of Law is the first book in the 2nd era of Mistborn. I think this one takes place 2 or 3 hundred years after era one.
Alloy of Law fits the promts ten and twenty-three, favorite genre and weapon on the cover. That weapon prompt almost got me! I don't really have one favorite genre, but high fantasy is one of my favorites.
I finally want to read this one! I don't have a copy yet and I was waiting to get one, but I'm sure I will get it as some point next month.
ACOSF fits the prompts 12 and 24, a hybrid genre(fantasy romance) and a 2021 release.
This is the 8th book in the Shopaholic series AND was originally the last book. The 7th book ended on a big cliffhanger, so I want to get to this sooner than later.
Shopaholic book 8 fits prompts 18 and 19, continue a series and last letter first letter. So, for the last letter first letter prompt, you are supposed to read a book that has the same first letter of your previous read books last letter.
I have 3 options for this! I need to read this one after Meddling Kids, A Court of Silver Flames, OR my next book. ALL three of those books end with S and this one starts with S.
This one fits prompts 21 and 22. 21 was a poll prompt and 22 is a less read genre. I picked to poll scifi books. I have read a lot of scifi this year, but overall it is a less read genre for me.
My Twitter followers picked The Passengers. I don't know much about this book, just that it takes place in a car. I want to go into it not knowing much.
---
Where to find me: https://linktr.ee/Allithebookgiraffe
Business Inquiries: aw.lavender.giraffe@gmail.com
Wishlist: https://www.amazon.com/hz/wishlist/ls/3W1IYSO63N67O?ref_=wl_share
Like my thumbnails? I create them with Canva. Referral code here: (this is not an affiliate link, every user gets a link like this one): https://www.canva.com/join/jkb-wws-hqb
Add this user on Goodreads for all your trigger warning needs: https://www.goodreads.com/user/show/86920464-trigger-warning-database