Hello readers! Today's post is my TBR for October. So many readathons for this month made it very hard to choose. However, I do have one that I'm super excited about! This readathon is slasher themed.
CLICK HERE to go to this readathon's Twitter for all the info and hosts!
October is nearly here and I am finally back at it. I have been in a reading and posting slump for almost a year. I am finally getting the want to read every day back and the inspiration for new posts. I have so many ideas lined up for the rest of 2022.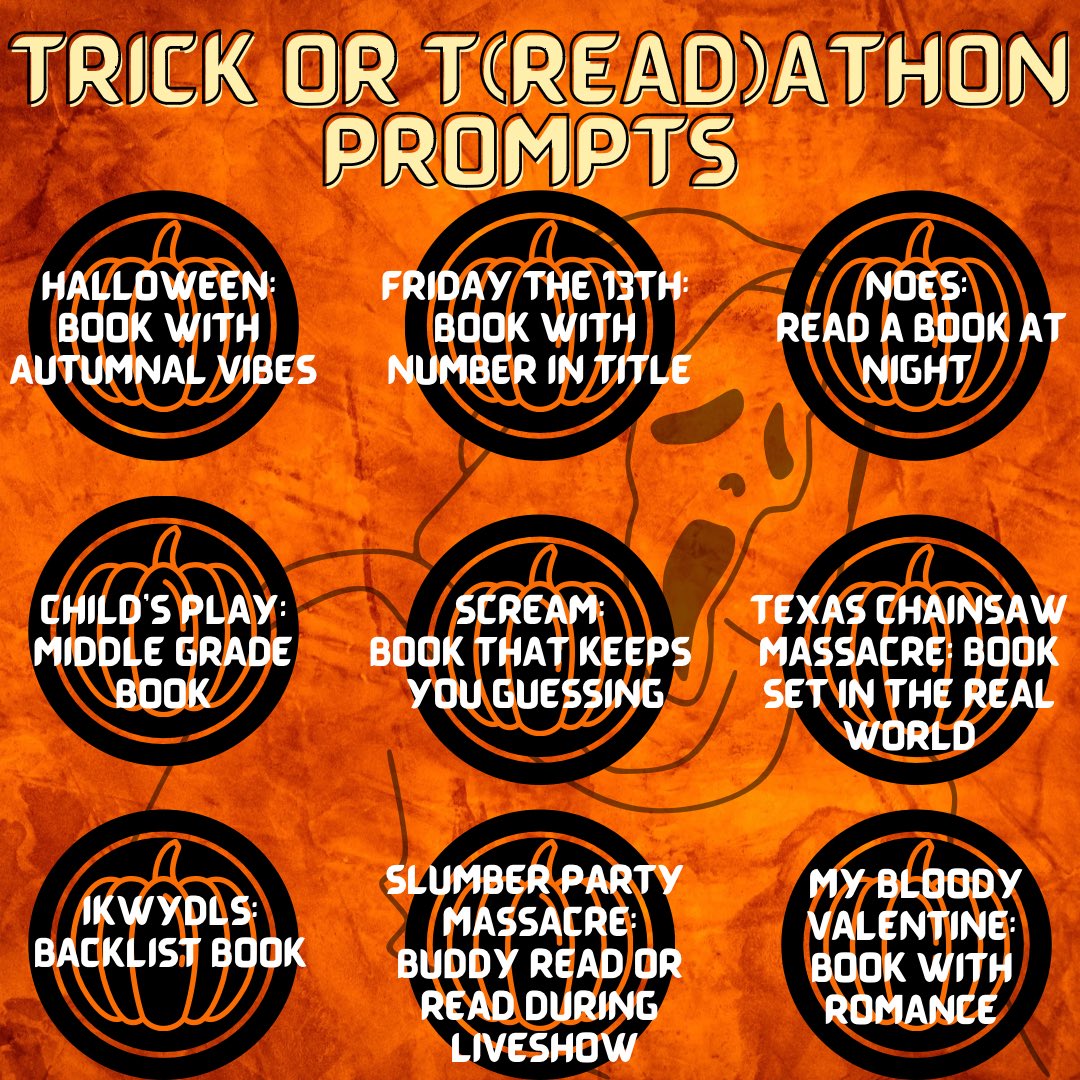 Halloween: Book With Autumnal Vibes
All I know about this one is that it takes pace in England in the late 1800s and follows two young teens with healing powers. One can heal himself and the other can melt skin and heal it.
I'm not sure if this takes place in the fall, but the cover is giving autumnal vibes!
Friday the 13th: Book With a Number in the Title
The First Sister follows this no-named priestess on a ship. Her captain abandons her, so she ends up with a new captain, some sort of romance ensues.
The other perspective is of Lito. He has been tasked to track down his former partner, who has been labeled a traitor. However, Lito finds out new information along the way and can't decide who he should believe.
I am reading this on my journey with scifi this year. I haven't read a scifi quite like this and I'm excited to jump in!
Nightmare on Elm Street: Read a Book at Night
Widowmaker follows Morgan Mori, a photographer who just moved back to her hometown, and Ryan Husdson, an investigator. Hudson is investigation this new murder, along with a cold case. Morgan happened to have her car stolen by the killer, bringing her into the case.
I did start this one already. This is an ARC I got on Netgalley that comes out in December. It is more of a winter-y book than a autumn one, but I wanted to fit it in. It is a slow read in the beginning, but we will see once I've read a bit more of it if it's worth the read. I've never read anything by this author before.
Child's Play: Middle Grade Book
I don't have a lot of experience with horror books in middle grade, except Goosebumps. Most of the ones I have read I didn't like, except Goosebumps.
This one follows 3 friends who discover a haunted doll. Along with this doll comes a curse, unless they can return it to its rightful home.
Scream: Book That Keeps You Guessing
The Secret Letters is the first book in a new middle grade series. Of course, I wont know what books will keep me guessing, but I can assume a mystery book will.
This one follows two siblings who explore this new business their parents own and find many hidden secrets about the past.
Texas Chainsaw Massacre: Book Set in the Real World
Daisy Darker is one of those murder mysteries set in an isolated location. In this case, Daisy is meeting with her entire family at her 80-year-old Nana's giant home on an island. Right at midnight, Nana is found dead and another family member each hour after. Daisy must find the killer and save her family.
I have had this one hold through Libby for so long. Every time it comes to me I pass over it to the next person. However, I'm actually going to get to it this month! I read Feeney's book from last year and really loved it. I just haven't had a thriller kick in 2022 yet.
I Know What You Did Last Summer: Backlist Book
Fledgling follows a 53-year-old woman who wakes up with no memory and slowly comes to realize she is a vampire.
I have wanted to try Octavia Bulter for a long time and this seems like the perfect book for a spooky readathon and the spooky season.
My Bloody Valentine: Book With a Romance
The Party Crasher follows Effie who isn't invited to this housewarming party in her old family home. She decides to go anyway to find this valuable item hidden in the home. And, this is a Kinsella book, so it will have a romance.
I am so excited to read some Kinsella books outside of the Shopaholic series. I have read quite a few of her books outside of that series, but not since I started it 4 years ago.
---
Where to find me: https://linktr.ee/Allithebookgiraffe
Business Inquiries: aw.lavender.giraffe@gmail.com
Wishlist: https://www.amazon.com/hz/wishlist/ls/3W1IYSO63N67O?ref_=wl_share
Add this user on Goodreads for all your trigger warning needs: https://www.goodreads.com/user/show/86920464-trigger-warning-database